A train covers half the distance of its journey with a speed 20 m s-1 and the other half with a speed of 40 m s-1. The average speed of the train during the whole journey is
A. 25 m s-1
B. 27 m s-1
C. 30 m s-1
D. 32 m s-1
E. 35 m s-1

Solution

Show solution >>
The answer is B.
Let the total distance travelled by the train be
d
and the time taken for it to complete the first half and second half of the journey be
t
1
and
t
2
respectively. The distance travelled each half-journey is
d
/2 and it is the product of their respective travelling velocity and time taken.
For the first half-journey,
For the second half-journey,

Combining the above two equations, we get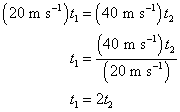 Now we have the relationship between
t
1
and
t
2
, we can eliminate one of them from our calculations. For convenience, let us state the
d
in terms of
t
2
and find the average speed, which is the total distance travelled divided by the total time taken.
Rounding off to the nearest integer, we have 27 m s
-1
.
Hide solution <<
Question source: Malaysia National Physics Competition 2007 (Secondary Level)